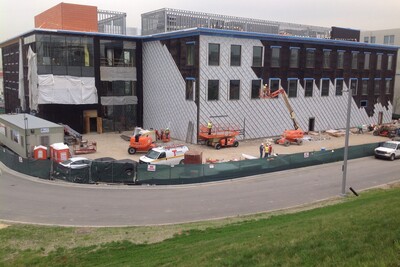 When used along with joint sealing tapes, flashing materials, and sealants, nearly all foam plastic insulating sheathing products meet code requirements for use as continuous air barriers. 
Top Resources:
Article Series by Jay H. Crandell, P.E.
Tools & Education
Description
Continuous insulation is used on foundations, exterior walls, and roofs and provides maximum thermal performance by minimizing thermal bridging. Continuous insulation products also can provide multiple functions including thermal insulation, water-resistive barrier, and air barrier. This presentation addresses these topics and more based on a comprehensive body of building science knowledge resulting in recent building code and energy code advancements.
Description
The Air Barrier Association of America (ABAA), in conjunction with Oak Ridge National Laboratories (ORNL) and the National Institute of Science and Technology (NIST)  have created a web based energy saving calculator for building airtightness. The purpose of this free calculator is to quantify energy savings based on the use of air barriers and increasing the airtightness of buildings.
Description
In this updated guide, HUD is offering new and refined guidance for designing durable homes for today's housing industry—addressing critical topics, including water vapor management, envelope design, and natural hazards. Building more durable homes also means providing more comfortable, affordable, efficient, and sustainable homes for America's families.
Best Practices
This guide from Building America addresses various means of applying foam sheathing on 2x4 wood framed walls in climate zones 3-5, including integration with other components (e.g., windows and cladding) for foam thicknesses up to 1-1/2". It also addresses air barriers,  water vapor retarders, and use of foam sheathing as a WRB or in combination with a separate membrane WRB.
Additional Information
A brief history of air barriers in buildings, from the days of interior polyethylene air barriers, all the way to the foam sheathing ci 3-in-1 solution. 
This paper reviews the problems created by infiltration and exfiltration in buildings, and the design considerations of an air barrier system to control the problems. 
While recent code changes have mandated tighter construction, the code development organizations have worked closely with building scientists to assure that mandated construction approaches promote not only energy efficiency, but also healthy, durable buildings.