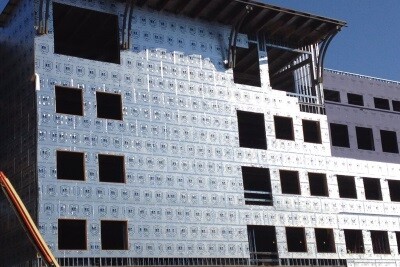 Windows can easily coexist with exterior continuous insulation of many thicknesses. With a whole building analysis, increasing the level of continuous insulation can allow for larger windows while maintaining the same level of overall building thermal performance. Modern detailing methods improve moisture management around fenestration openings. 
Top Resources:
Tools & Education
Description
Details and information on the use of CI to avoid thermal bridges
Description
Designing fenestration openings for buildings that use continuous exterior insulation has a significant role in reducing thermal bridging and thus conserving energy. This course reviews the impact of exterior insulation on fenestration installation design. The course also explores solutions for a wide variety of wall system variations.
Additional Information
The water control layer of the wall has to connect to the water control layer of the window.
One of the dirty little secrets that never gets talked about is that water leaks through building papers, building wraps and housewraps and runs down between them and the sheathings that they cover.