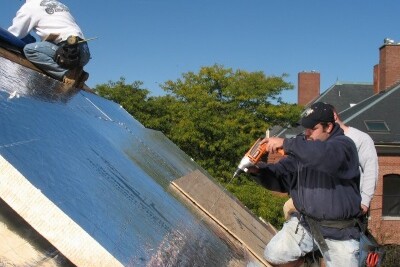 With increased insulation requirements in recent versions of the energy codes, continuous insulation on the roof can allow the owner to meet thermal insulation requirements in low- and steep-sloped roof applications with the following benefits: minimizes thermal bridging through roof framing, reduces energy losses through ductwork located in unvented conditioned attics, turns attics into living space or climate-controlled storage areas, and helps protect against moisture or condensation.
Tools & Education
Description
Low-slope roof general guidance. Intended to give a relatively brief introduction to roofing, to weigh pros and cons of various materials that are not available in other reference documents, and to provide some suggestions for enhancements beyond systems that simply comply with code and warranty minimums. 
Description
Steep-slope roof insulation above deck general guidance. Exterior insulation permits high R-value to be achieved without necessarily disturbing interior finishes.  The best time to implement this approach from a cost perspective is when an existing roof is being replaced.
Best Practices
The model building codes allow both vented and unvented roof assemblies. The applicable physics impacts the design of attic or roof systems as does the applicable building code but neither limit the choice.
Advice on insulating vented and unvented low-slope roofs applicable to both commercial and residential buildings. 
Choosing materials wisely is a good start. But success comes from careful attention to movement joints, intersections, and terminations.
Additional Information
Information on the use of Polyiso in roofing applications
Information on the use of XPS in residential roofing applications
Information on the use of EPS in roofing applications