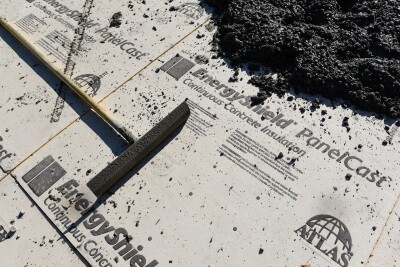 Continuous insulation is an excellent addition to foundations. By isolating the foundation from the ground, foam plastic insulation sheathing limits thermal bridging and improves building performance, both from an energy standpoint as well as moisture management. All of this means greater building efficiency, occupant comfort, and code compliance.
Tools & Education
Description
This standard is a code referenced guide for designing and constructing cost-effective and energy-efficient foundations using foam plastic sheathing. 
Description
To assist U.S. home builders, remodelers and trade contractors in the design, construction, and code approval of frost protected shallow foundations.
Best Practices
Oak Ridge National Laboratory: Foundation Design Handbook
Additional Information
This construction uses 2 layers of 2" XPS rigid insulation on the exterior of the concrete foundation wall. The slab is insulated with 2" XPS rigid insulation under slab and the rim joist is insulated with closed cell high density spray foam insulation.