Cladding Connections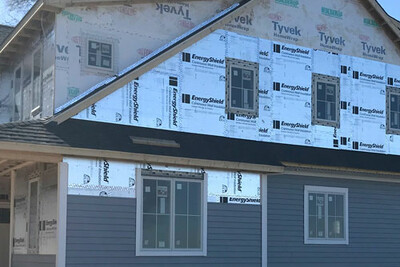 Improved energy efficiency is a major focus in building design and construction with the evolution of the International Energy Conservation Code (IECC). Foam plastic insulating sheathing (FPIS) is one of many products used, due to its beneficial thermal performance values, used alone or in combination with conventional sheathing and between the studs insulation. The code compliant use of FPIS for energy code applications also requires consideration of other factors such as appropriate methods for connection of claddings through FPIS materials* of various thicknesses and various substrates.
Top Resources:
*Always install FPIS per the manufacturer's installation instructions.
Tools & Education
DOE Initial and Long-Term Movement of Cladding Installed Over Exterior Rigid Insulation
Changes in the International Energy Conservation Code (IECC) from 2009 to 2012 have resulted in an increase in minimum insulation levels required for residential buildings. Not only are the levels increased, but the use of exterior rigid insulation has become part of the prescriptive code requirements. With more jurisdictions adopting the 2012 IECC, builders will be required to incorporate exterior insulation in the construction of their exterior wall assemblies.
Vinyl Siding Over FPIS Report
Requirements for installation of vinyl siding over foam sheathing in thicknesses up to 4" when used as thermal insulation in exterior walls. Available as a sealed code compliance report.