Water-resistive barriers (WRB) have been required by the International Code Council (ICC) model codes since their inception in 2000. WRBs, along with properly integrated flashing, provide a necessary means for building designers to prevent rain-water intrusion, as also known as "bulk water" management. 
However, not all WRBs are equal, particularly as it relates to how they perform and qualify for code compliance and acceptance.  For example, some WRB materials such as foam sheathing, other sheathing materials, and spray-applied systems are held to more stringent (and more effective) test standards for water penetration resistance than certain proprietary materials such as building wraps because the code provides neither a consistent test standard nor performance criteria for all WRBs.
A research report entitled, "Water-Resistive Barriers: Assuring Consistent Assembly Water-Penetration Resistance," has been developed by the Applied Building Technology Group (ABTG) that assesses current requirements in building codes and related consensus standards related to the qualification and specification of WRBs. The report compares independent sources of data for both traditional materials (such as asphalt felt paper) and proprietary materials that rely on accredited product certification reports for code compliance assessment and acceptance. The disparity in performance is seen in the following table that provides a brief summary of comparative performance differences.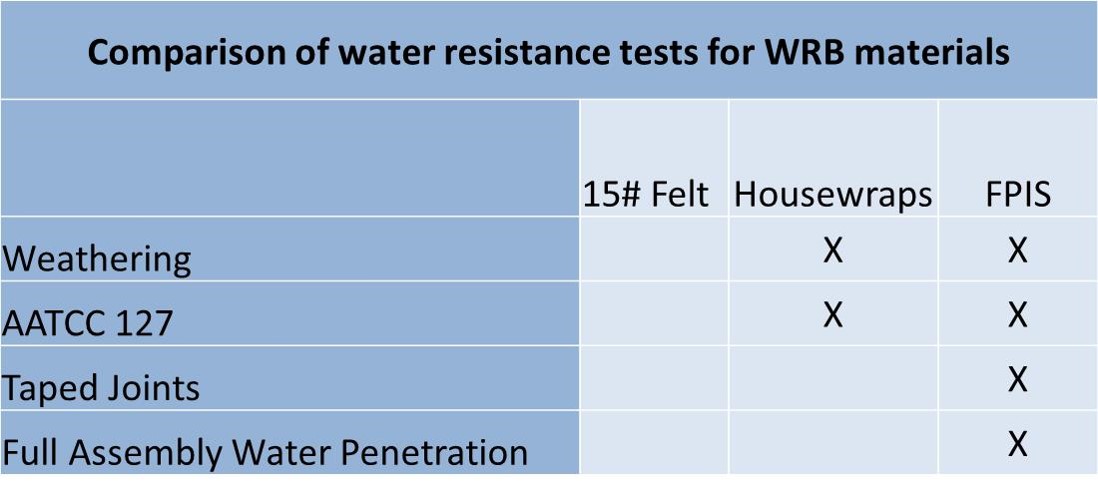 Table Notes: AATCC 127 is a test that measures the resistance of a material to the penetration of water under hydrostatic pressure.
In the case of foam sheathing and spray-applied systems when compared to building wraps, the data clearly identifies disparities in performance between products, as well as variances in performance criteria that can lead to unexpected outcomes with unintended consequences.  The report asserts that equity in performance requirements is needed to ensure that at least "equivalent performance to traditional materials" is recognized in the model building code.
According to Jay Crandell, P.E., "Proposal RB286 to the International Residential Code addresses this issue. Building Code officials who attend the ICC code change hearings in Kansas City later this month are encouraged to vote in support of this proposal to resolve what has been an on-going effort to improve the code."
An educational PowerPoint presentation has been developed to summarize and help everyone have a more in-depth understanding of the concepts found in the research report.
In addition, a best practice guide for installers has been developed to support ease of application understanding and support the appropriate use of materials such as foam sheathing WRB systems which, according to the research report, are held to the highest level of currently applied performance testing and criteria